As we crawl through L.A. the machine camera searches for clarity and meaning, not unlike recovering from heartbreak. This dark, inverted mirror of humanity is everything we are not: virtually perfect, pure data, unwavering, and never asleep.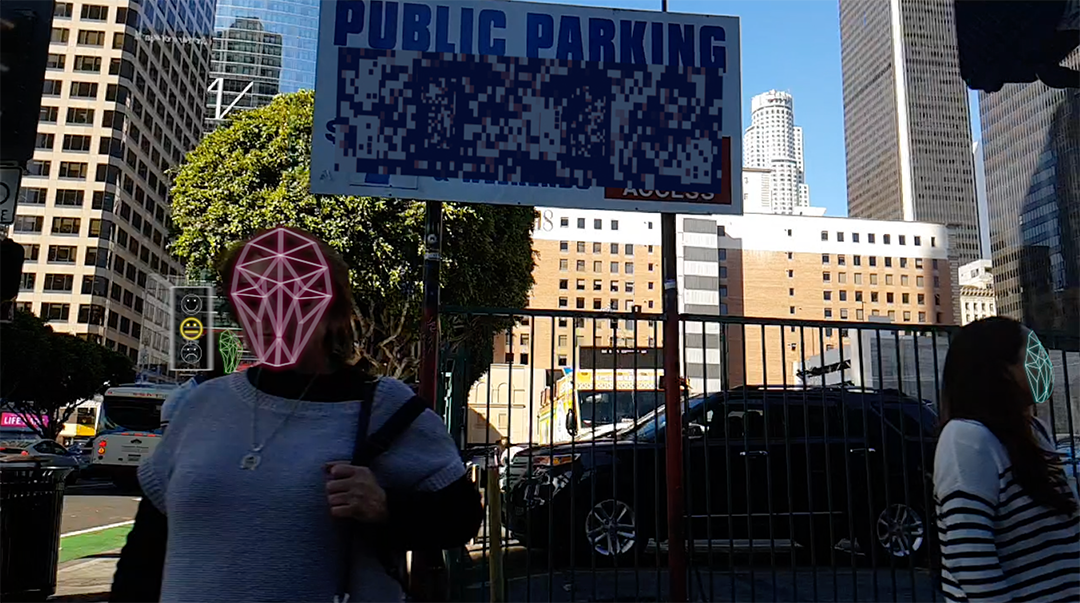 Inside the Video & The Politics of Computer Vision Aesthetics
words by Jak Ritger
Last fall and winter, K8 Howl and I worked with director, Loretta Fahrenholz to create an experimental music video for no wave legend, Kim Gordon. The video for Earthquake, a song from Gordon's first solo record titled "No Home Record" 2019, was shot on iPhone by Fahrenholz as she surveyed Los Angeles in an S.U.V. (the vehicle is visible in fleeting window reflections). Fahrenholz constructed the film as docufiction: a reality captured and presented as a conflict of forces. Howl and I then applied digital video effects to simulate how a computer vision system might work in an A.I. driven vehicle. In an interview with Nowness, Gordon and Fahrenholz discuss the aesthetic direction of the film:
KG: Cameras are always recording you, your laptop is listening to you... Our idea of what is private has become public. It's hard to even define what a private moment is.
This sugary, seductive quality of computer vision aesthetics is not without consequence. The colorful boxes and heat signatures analyze our movement and as a result they launder real world systemic control into an innocuous game. We are already comfortable and familiar with bounding boxes in word editing programs or aim targets in first-person-shooter games, and we intuitively understand vehicle reverse-direction cameras and forward trajectory arrows in racing video games. With AI driving, this digital awareness is devirtualized into a physical passenger vehicle video game. With Earthquake we wanted to accelerate this aesthetic into appropriately drastic territory to match the societal implications of surveillance and automation.

In Earthquake, Kim Gordon's avant-garde music and songwriting is on full display. Picking up the pieces after a catastrophic act of nature or meditating on a heart-break with quiet rage is truly a provocative and challenging approach. She amplifies the undercurrents of dread, longing, and escape with trawling drone sounds, reminiscent of Tony Conrad's violin machines. Gordon has collaborated with fine artists in the past, such as Raymond Pettibon, and Tony Oursler. She actually got her start in music as a performer in a conceptual art piece by Dan Graham. Gordon, a fine artist in her own right, has exhibited paintings, performance, photography, and video work at the The Warhol Museum, 303 Gallery, and Reena Spaulings Fine Art. Perhaps, her music career has always been a performance piece, expounding the possibility of mass media and culture to shift and distort reality.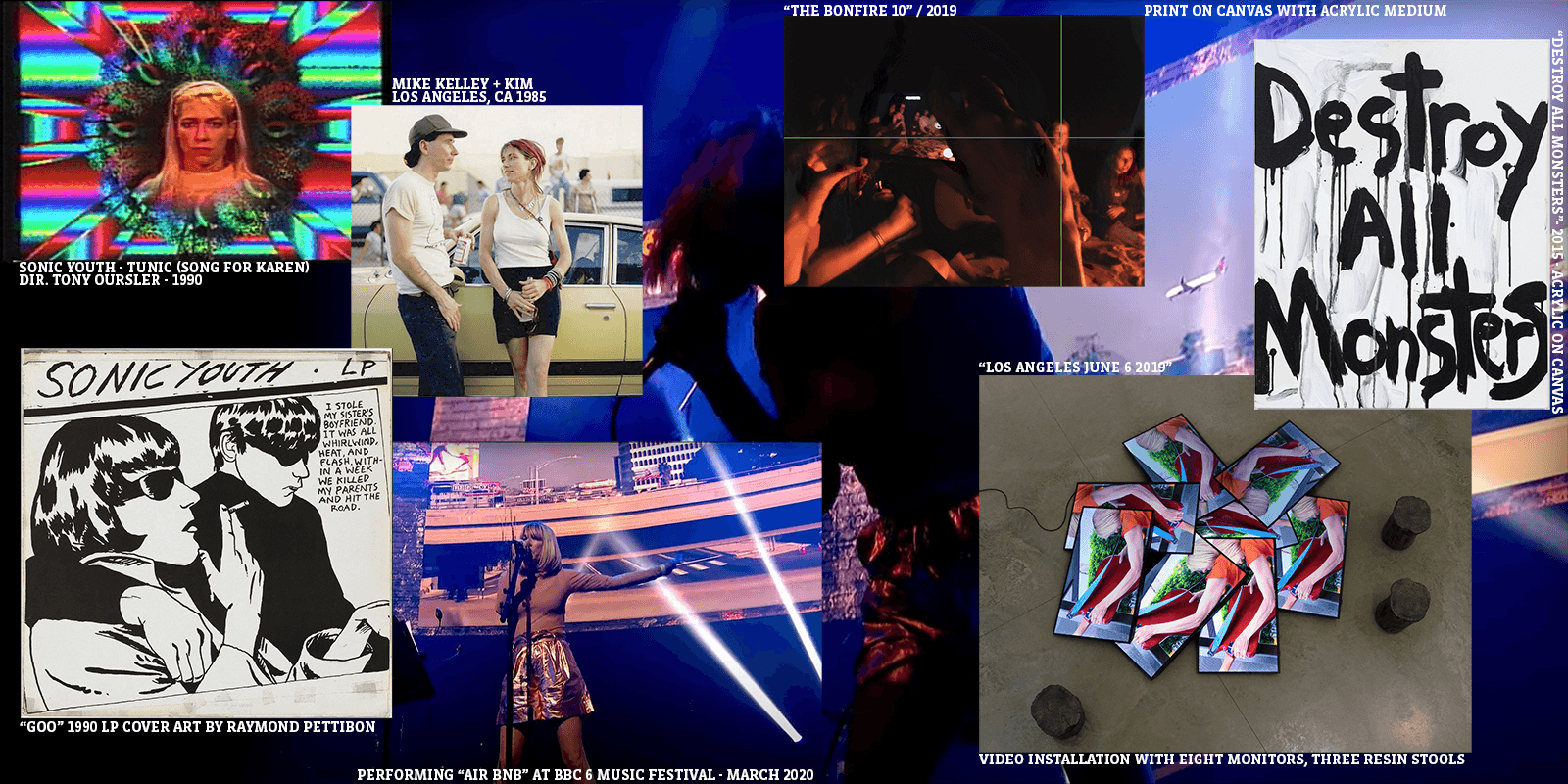 In conversations leading up to the creation of the video for Earthquake, Loretta, K8 and I discussed surveillance aesthetics and the impact these tools have on art making and society as a whole. Loretta's feature film dealing with these issues, Two A.M. proposed the possibility of resisting self-surveillance by making oneself blank, devoid of thought, and therefore invisible to the information machine running on data collection. In the movie, the machine owns the path to escape as well; resisting collection has become its own data profile. This fictional struggle is evident in real world trends such as Anonymity chic, the elite sensibility of being beyond surveillance. Anonymity chic creates an inverted market of negative influence; you can pay to wipe your name and image from all search and social media. In Earthquake we wanted to distill this feeling of inevitability and inescapability that the surveillance aesthetic promotes. Whether or not the worst outcomes of a surveillance state are indeed inevitable, those who erect the surveillance state are not exempt from it.
"To me, filmmaking, at least in a post-cinematic sense, is about dealing with reality in a way where you're not erasing conflict before you even start shooting."
Loretta Fahrenholz - Texte Zur Kunst - Issue No. 119 / December 2019 "EVIL"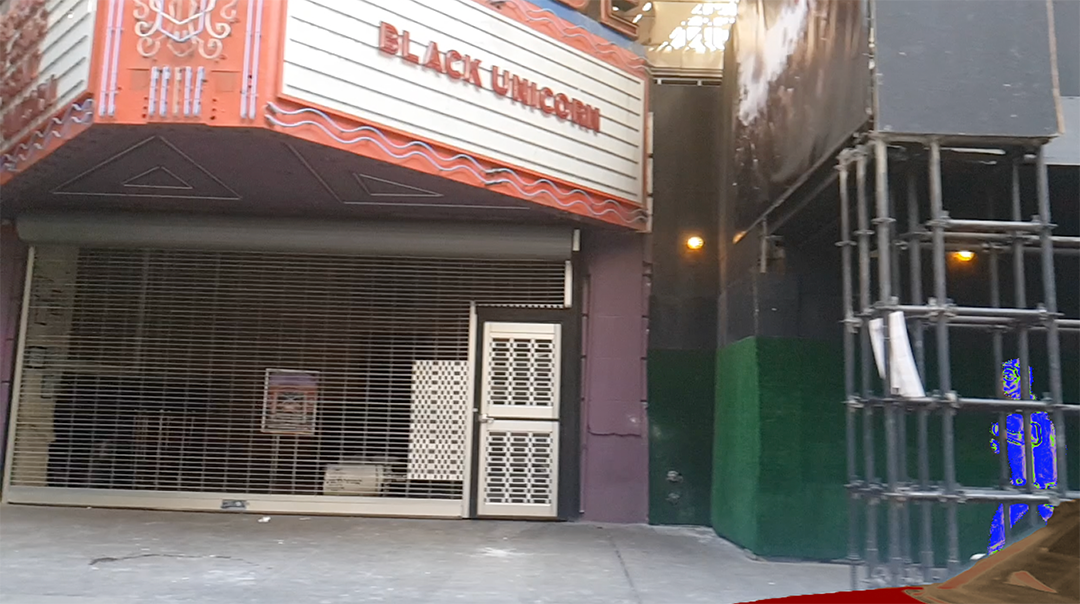 As we crawl through L.A. the machine camera searches for clarity and meaning, not unlike recovering from heartbreak. This dark, inverted mirror of humanity is everything we are not: virtually perfect, pure data, unwavering, and never asleep. As the shadows grow long and movement slows the computer generated image drags. Words are replaced with codes. Storefronts and windows begin to undulate. The surveillance apparatus collapses the stacked entities of people, buildings, and cars into one life-form, indistinguishable from the city itself. This naked code forms an invisible web, binding performer to crowd, AI car to pedestrian, pain to bliss. Will the singularity, born of our meta-data, allow us to control destiny, or will it become yet another system of value extraction? It has yet to be seen. As cinema acquiesces the role of dominant cultural producer to digital media, the post-cinematic lens offers a chance to hypothesize ramifications of AI driven futures. -J
Catch Earthquake at Area Code Art Fair - V/DA Drive-In Project Friday August 14, 8:30-10:00PM. Tickets required. Click HERE to get your free ticket. Location: Salem State University, O'Keefe Sports Complex - 225 Canal Street. Salem, MA 01970