DEVIRTUALIZER, NYC - MAY 2022 w/ The Codex Cru - Wrap Up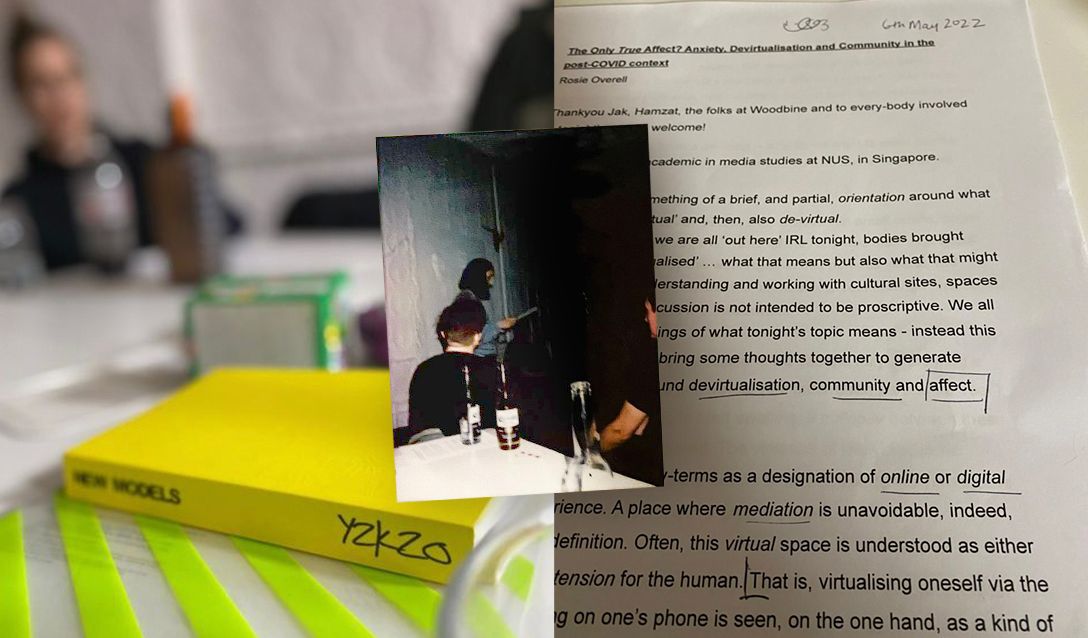 The NEW MODELS Codex Cru descend on NYC to host an event at Woodbine titled "Devirtualizer" - Codex Cru is Jak Ritger, Rosie Overell, Hamzat Raheem, Matīss Groskaufmanis, Attila Haraszti, Sarah Wambold, @phmm, Orla Tiffney, Leïth Benkhedda
   On May 6th, 2022, members of the NEW MODELS discord assembled in NYC's Woodbine space to host "Devirtualizer." The event was an IRL version of directed collective research and idea generation called "swarmcrafting" that we had been experimenting with in the discord over the past two years. The group came together to produce "NM CODEX Y2K20", a book cataloging the discussions and feeling of the plague year. We became good friends through the bookmaking process and wanted to do some sort of event in New York. The idea of devirtualization felt like a natural focus, as one way to define the term is "the meeting friends from online in IRL." In 2020 I published an essay expanding the concept to be a catch-all for the ways in which the virtual has come influence the physical. Since then I have started to see 'devirtualization' catch on, slip into casual conversations, chats, and a common refrain on the NEW MODELS podcast.
   Sister space, Do Not Research recently mounted a huge group show in Holyoke Massachusetts at the lower_cavity residency project space. The exhibition itself a sort of devirtualization with artists creating physical manifestations of digital artworks. A couple of artists in the DNR group show, Alfie Muszynski, Brandon Bandy, Rachel Jackson used the concept from my essay as a direct strategy for making painting and sculpture. Muszynski even using one of my example's of devirtualization, "The Carlton Dance" as fodder for a conceptual painting. The opening for DNR Group Show was two weeks prior to The Devirtualizer NYC event and set off a moment of online friends coming together IRL to converse, party and share high fidelity interactions (maybe the real metaverse is just hanging out with friends.) The backdrop of the DNR Group Show acted as a launch pad, certifying the real potency of online discursive spaces that developed in the past two years. The energy in Holyoke made its way down to NYC where DNR Members mixed with NM Cru in Tompkins Square Park for "NMxDNR Meetup" organized by Leïth. This crossover acted as a reality bridge between the two dark forest collectives, setting the stage for Devirtualizer later that week. (see TikTok at bottom for scenes from this day)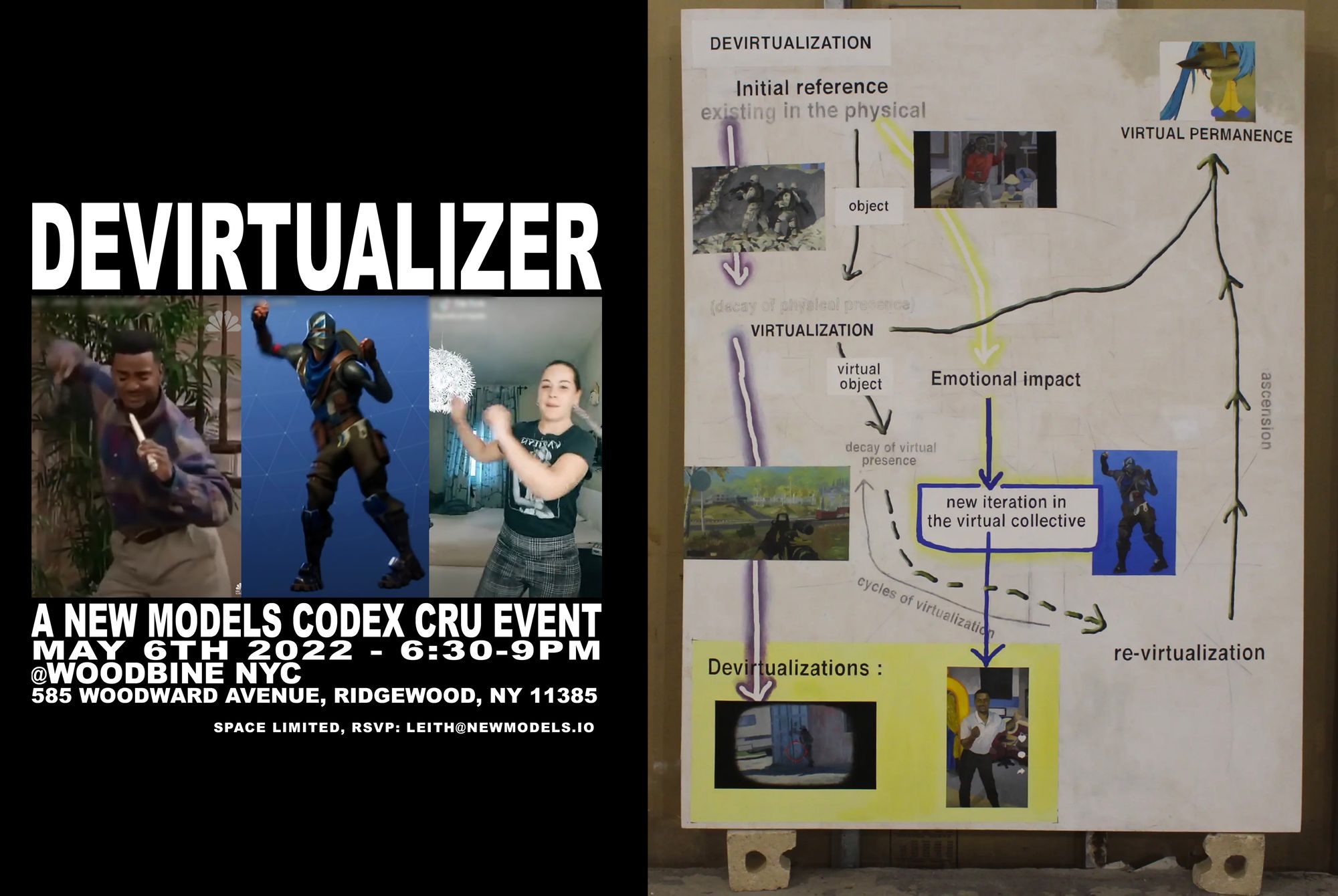 The following week in May, the Codex Cru met in NYC and over dinner, gallery visits, walks around the city we discussed the idea of devirtualization and how it relates to our various multi-disciplinary backgrounds. Orla had just come off of a road trip from Austin to Chicago with Sarah. It was her first time in the states, so she had heaps of fresh insights into The American Spectacle. As a person embedded within this strange landscape, it is easy to lose sight of the uncanniness, so a visitor's first gloss was quite grounding. Tracking Orla's travels through instagram stories and group chats, as she made her way towards NYC was like a kind of devirtualization in slow motion. The Bass Pro-Shops Pyramid acting as a nexus point for the hyperreality of America to really take hold.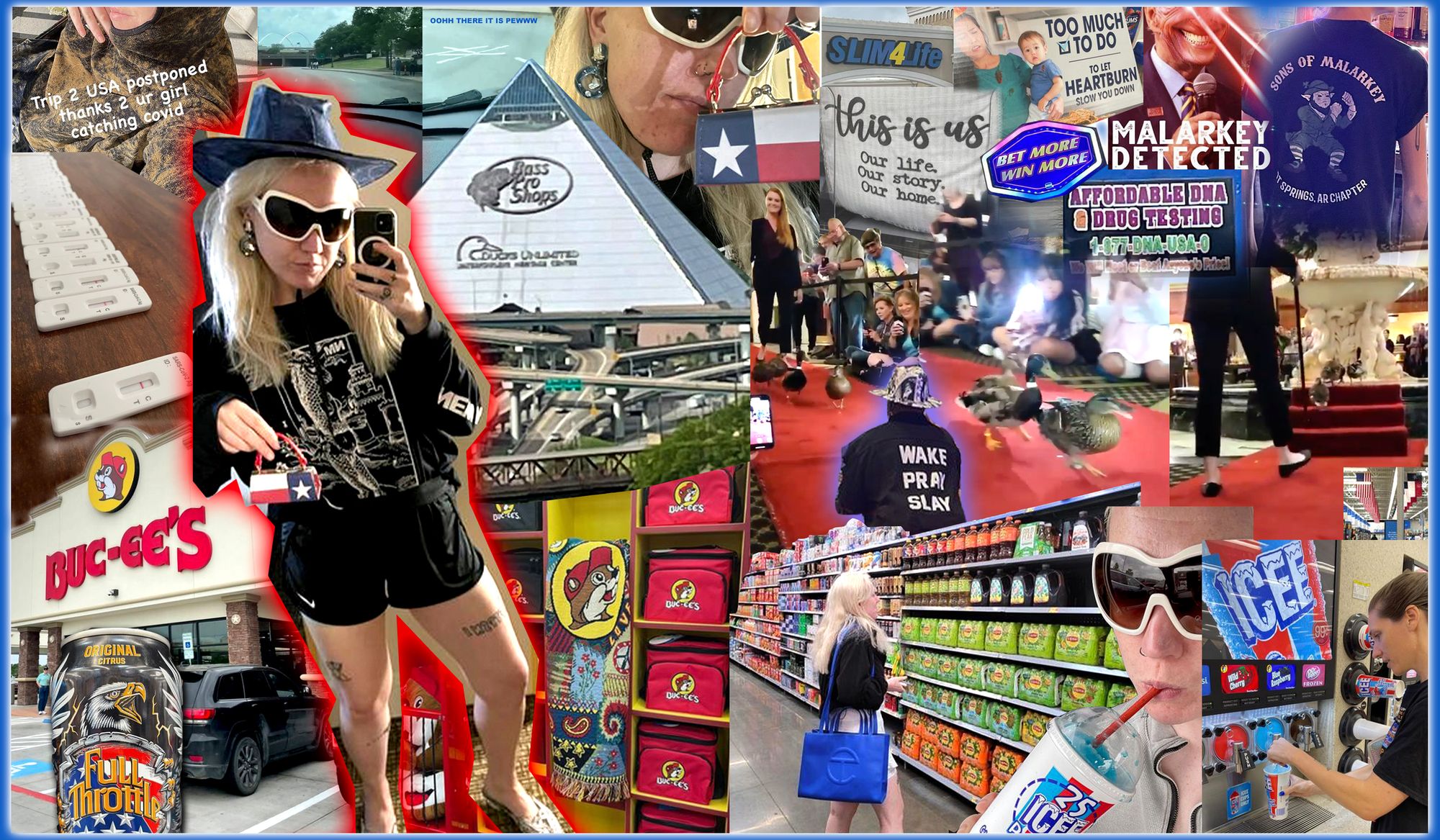 Rosie Overell travelled all the way from Singapore where she teaches a global communications program at NUS. We discussed the Covid plague years as a mass-virtualization event. And now, entering back into physical space comes with a sense of anxiety, how virtual sociality afforded a sense of comfort at a distance: you can delete, edit, draft your message, you can turn it off and check out, you can construct an online identity that is perfect. But, back in the real we must speak extemporaneously, we cannot edit what we just said, we must be perceived in realtime. These same anxieties reported by a "digitally native" generation that was socialized through online experience when trying to construct IRL relationships.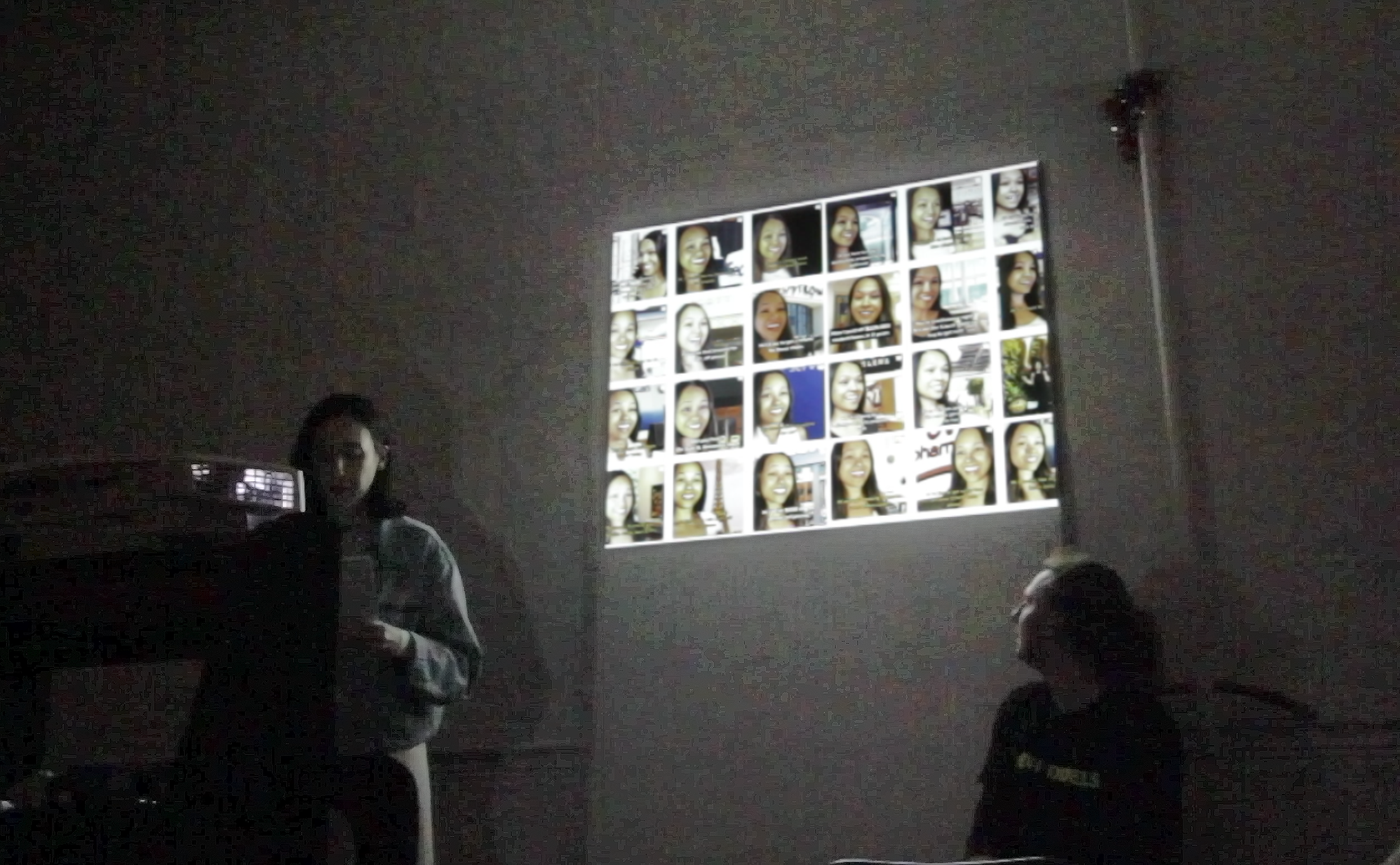 Rosie filtered these observations through Lacan and Baudrillard, giving us a critical theory hook to grapple with the reality of mass-virtualization and now mass-devirtualization. She compressed what could of been a two hour seminar into a 15 minute opening lecture to kick off the event. While she presented I flipped through a slide deck I had put together that day. There was a nice resonance and dissonance between her writing and my visual interpretation. The crowd was enraptured into a psychedelic flow state (this was how Jady described the experience.)
   Rosie's lecture came after an introduction by Mitch from Woodbine on the history of the Ridgewood mutual aid, activism and discourse space and how it is rooted in the local community. The event was really special to blend Woodbine's hyperlocal engagement with New Models digital local network. There were also a lot of people from DNR there, crossing those two communities was really fruitful, as well as a proof-of-concept for the kinds of cross-community formations we can hope for from the new Channel initiative, a joining of NEW MODELS, Do Not Research, Interdependence.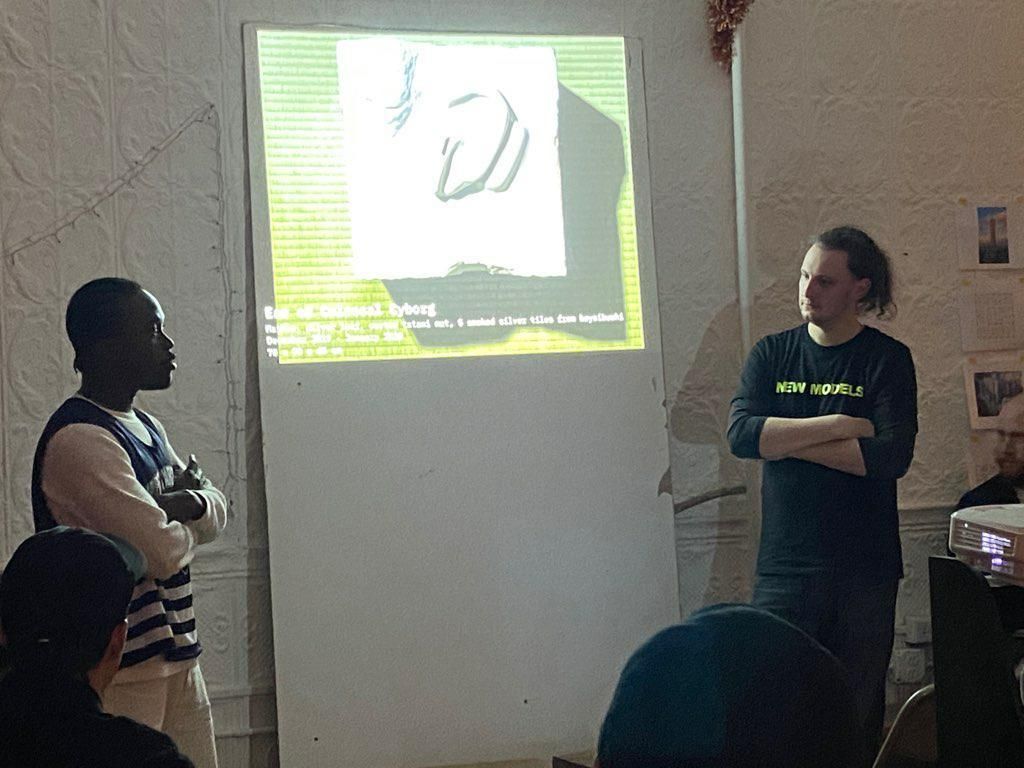 After Mitch's intro and Rosie's opening mini-lecture, Hamzat Raheem and I shared artwork and had a very abbreviated artist talk, about ten minutes. Although it was short, we went deep into our varied approaches of digital conceptual art. I presented my Blind House piece which you can learn more via the Codex launch stream. Hamzat showed his stone sculpture and a piece called "Digital Self Nude" where Hamzat posted an image on Instagram containing all of his passwords and usernames. This piece is an imprint of digital identity and a statement of how being online is real. I framed this as a kind of devirtualization, a pulling back the qualities of "fakeness" associated with the virtual and attempting to make it more real. To which Hamzat pushed back, saying that in his work he makes an effort to blur all binaries. "Digital Self Nude" was an effort to make the real and virtual become interdependent: a reaction to Black Lives Matter activism that made online space more potent and "real" than ever before.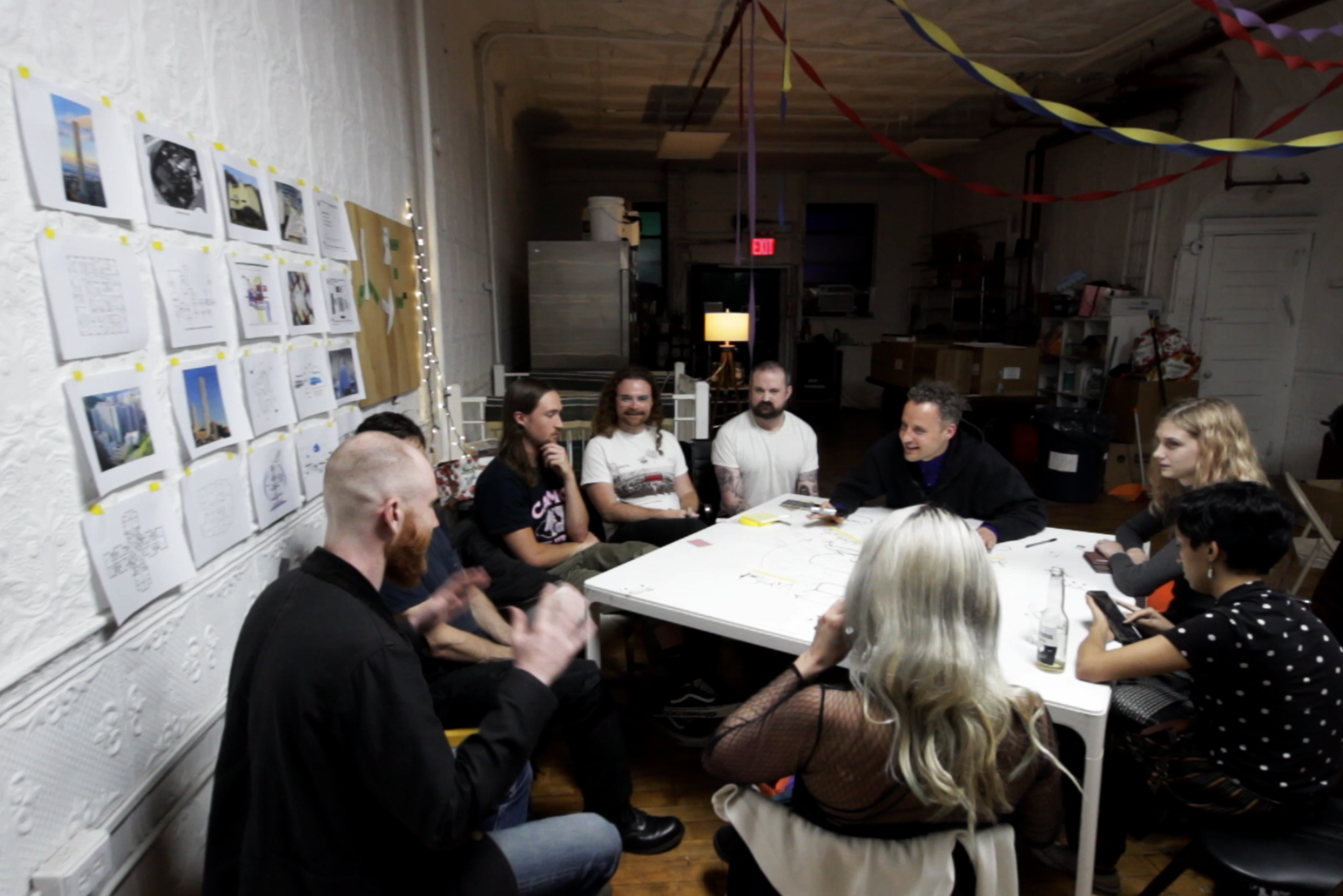 After the talks, we broke out in 4 groups. Using the NEW MODELS' discord breakout channels as the format. Each group focused on one area of interest and explored how virtualization's impact. We had Rosie and Hamzat leading community and sociality, Orla, Attila and Leith heading up music, aesthetics and culture. Sarah and @phmm presenting and discussing their Second Loss, digital memorial project. And Matis and myself discussing architecture and the digital built environment. After the breakout group, we came back together and presented each groups findings rapid fire style while a I wove transitions between each with common dynamics.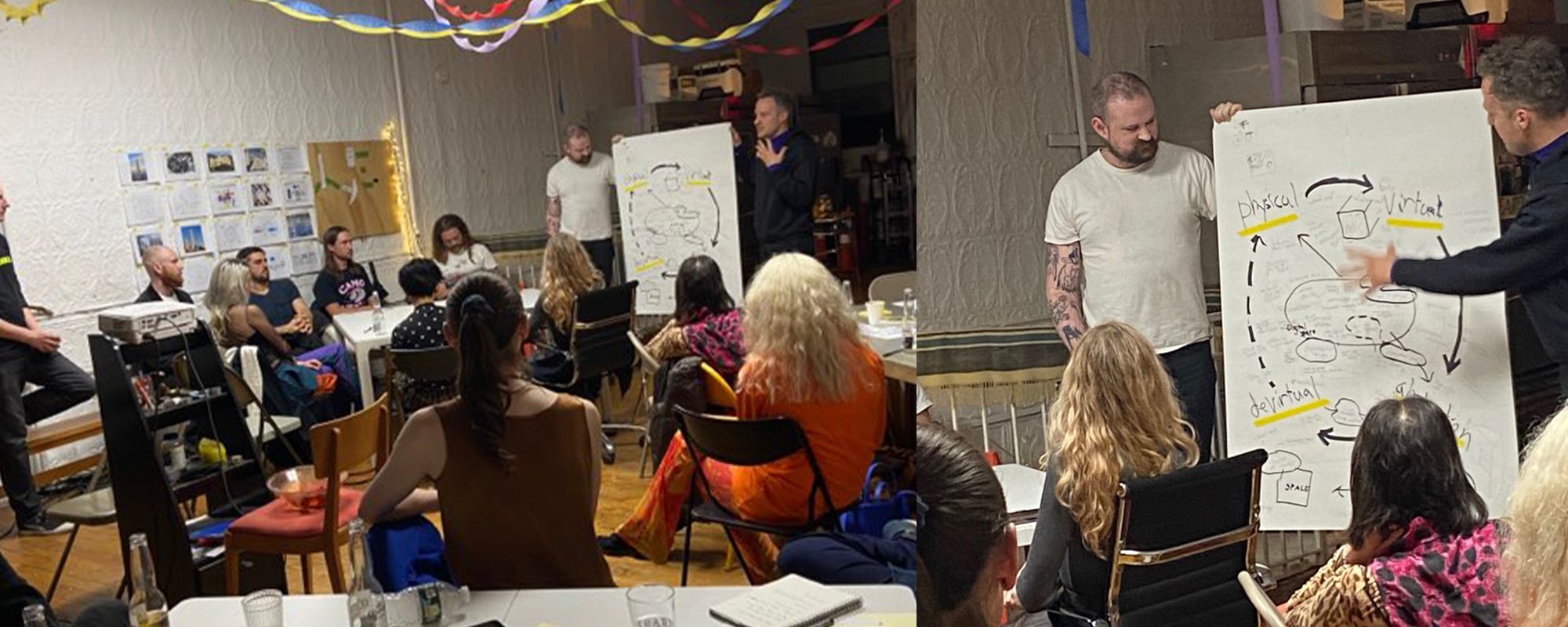 All in all it was a challenging and prescient discussion. With branching fractals of possible avenues to go down. I encourage anyone who wants to take up this effort to do so and organize their own Devirtualizer within an online community. This concept is an open-source theory and a contested term. Others should take it and shape it how they see fit. I hope for more events in this direction, as online space becomes more and more central to life, it will become even more important to step away and gather in temporal physical space to discuss the discontiguous interactions on the digital. I am truly thankful for the amazing community that has gathered in NYC to explore these ideas together. The Codex Cru is an incredible group of people that I am honored to call my friends. Excited to see where we take it next!